Course details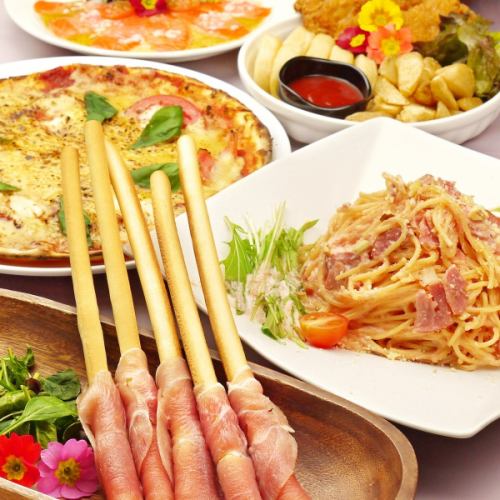 "Casual course" 2 hours with all you can drink! Easy party ♪ 6 items 3480 yen ⇒ 2480 yen (at a party / drinking party)
By using a coupon2480 yen
3,480 yen by reservation from hot pepper ⇒ 2,480 yen 【tax included】
6items

3

-

80persons

All-you-can-drink available

□□ ■ All-you-can-drink 【B】 with course! You can change the course for 【B + A】 course with drinks at + 300 yen, 【B + A + S】 course at + 800 yen as you like! ■ □□
Also recommended for beginners "Weekday Limited" easy banquet course.From appetizers salad, boasted meat dish from the chef's recommended pasta firmly with 6 items and 2480 yen!
Course menu
【1 item】 daily tapas
【2 items】 Caesar salad with fresh vegetables
【3 items】 Smoked duck roll loin 's carpaccio
【4 items】 Homemade BBQ sauce French fries
【5 items】 Chicken frit
【6 items】 Today's Chef Recommended Pasta
● Explanation of course ●
※ We can not use it before Friday, Sunday and holidays because it is for weekdays only.
* The contents may change depending on the purchase situation.
* Course discount may be out of application on busy days in December.
All-you-can-drink menu
· ◆ ◆ ◇ ◆ All you can drink A plan ◆ ◇ ◆
·beer
· Clear Asahi Barrel / Jandigerf / Cassisubia / Muscat Beer / Blueberry Beer / La France Beer
· Shochu
· Tou and (potato) / Yan and (Wheat)
·Cocktail
· Cassis soda / cassis orange / cassis grape / cassis oolong / cassis tonic / peach soda / fuzzy group / peach grape / regga punch / peach tonic / lycheesa / lychee orange / lychee grape / lychee oolong / lychee tonic
·Cocktail
· Gin Tonic / Jim Buck / Jin Ricky / Vodka Tonic / Moscow Commander / Screwdriver
·sangria
· Vigna Alvari sangria (red · white)
· Flavor distilled spirit
· Seasonal Kaoru Kana / Seasons Kaoru Kaoru Yuzu / Seasonal Kaoru Kaori Lychee
·sour
· Lemon Sour / Lime Sour / Grapefruit Sour / Orange Sour / Acerola Sour / Oolong Hi / Green Tea High / Jasmine High
·wine
· Almaden (red · white)
·Soft drink
· Pepsi · Cola / Ginger Ale / Tonic Waters · / Lemon Squash / Orange Juice / Grapefruit Juice / Acerola Soda / Calpis or Soda / Oolong Tea / Green Tea / Jasmine Tea
· ◆ ◆ ◇ ◆ All you can drink S plan + 500 yen ◆ ◇ ◆
·beer
· Asahi Super Dry / Jandigerf / Cassisubia / Muscat Beer / Blueberry Beer / La France Beer / Dry Zero Vial
·Highball
· Jack Daniel / Apple Wine High Ball / Black Nikka Rich High Ball / Ginger High Ball / Cola High Ball / Lemon Squash High Ball / Jack Daniel Tennessee Honey
·Sake
Magnificent
·Plum wine
· Rich plum wine
Reservation deadline

Until 22 o'clock on the desired date of coming to the store
Available days for reservation

Monday - Thurs, Sundays, Holidays
2018/11/21 update