Course details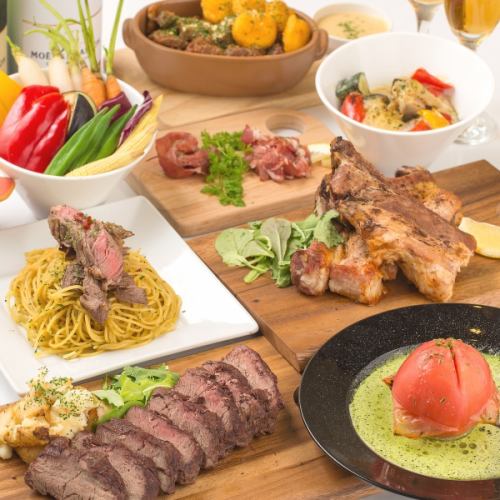 "Meat Balcose" 2.5 hour free all-you-can-drink! Popular No. 1 course ♪ 8 items 3980 yen ⇒ 2980 yen (at a party / drinking party)
By using a coupon2980 yen
8items

2

~

80persons

All-you-can-drink available

□□ ■ All-you-can-drink 【A】 course with! + + 500 yen 【A + S】 course all-you-can-drink! ■ □□
Our popular No.1! You can enjoy a wide variety of meat dishes, including original chicken steak with the original source.Loose 2.5 hours with unlimited drinks!
Menu
【1 item】 daily tapas
【2 items】 Carpaccio of duck smoked
【3 items】 Caesar salad with fresh vegetables
【4 items】 Chicken frit
【5 items】 Chicken meatball and vegetable ahijo
【6 items】 Chicken steak ~ Black pepper & garlic sauce ~
【7 items】 Today's Chef Recommended Pasta
【8 items】 Seasonal bite Dolce
● your description of the course ●
※ Weekday 2 people ~ OK Fri Sat, Holiday day 3 people ~
※ Friday, Sunday and public holiday will be + 2 hours, + 300 yen.※ There is the case that the contents are subject to change by buying situation.
All-you-can-drink menu
· ◆ ◇ ◆ all-you-can-drink A plan ◆ ◇ ◆
·beer
Clear Asahi barrel production / Jean DIGA off / Kashisubia / Muscat Beer / blueberry Beer / La France Beer
Shochu
Tow To (potato) / ceased and the (wheat)
·Cocktail
Cassis soda / cassis orange / black currant grape / Cassis Oolong / cassis tonic / Peach soda / Fuzzy Navel / Peach Grape / Regepanchi / Peach tonic / Raichisoda / lychee orange / lychee grape / Lychee Oolong / lychee tonic
·Cocktail
Jin tonic / Jinbakku / Gin Ricky / vodka tonic / Moscow Mule / screwdriver
·sangria
Vie Nha Arubari sangria (red and white)
- Flavor shochu
Seasonal Kaoru whether or cassis / season Kaoru whether or citron / season Kaoru whether or lychee
·sour
Lemon Sour / lime Sour / Grapefruit Sour / Orange Sour / acerola Sour / Oolong High / green tea High / Jasmine High
·wine
- Almaden (red and white)
·Soft drink
· Pepsi · Cola / Ginger Ale / Tonic Waters · / Lemon Squash / Orange Juice / Grapefruit Juice / Acerola Soda / Calpis or Soda / Oolong Tea / Green Tea / Jasmine Tea
· ◆ ◆ ◇ ◆ All you can drink S plan + 500 yen ◆ ◇ ◆
·beer
· Asahi Super Dry / Jandigerf / Cassisubia / Muscat Beer / Blueberry Beer / La France Beer / Dry Zero Vial
·Highball
· Jack Daniel / Apple Wine High Ball / Black Nikka Rich High Ball / Ginger High Ball / Cola High Ball / Lemon Squash High Ball / Jack Daniel Tennessee Honey
·Sake
- Exciting
·plum wine
· KoAtsushi plum wine
Reservation deadline

Coming to the store until the desired date of the day 22
Available days for reservation

Monday - Sunday - Public holidays - Holidays
2018/08/21 update