Course details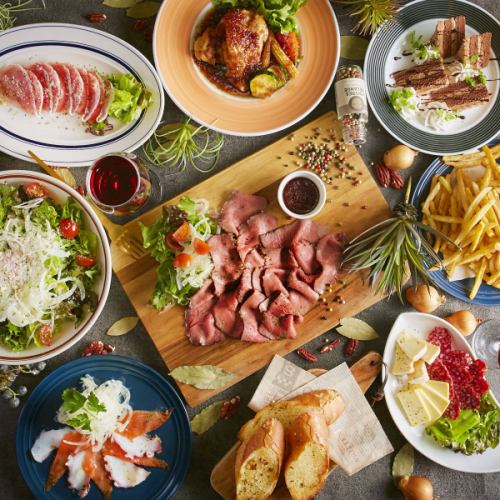 "Royal Meat Sanity Course" 3 hours free all-you-can-drink! Banquet Strongest! 10 items 5780 yen ⇒ 4480 yen (at party / welcome party)
By using a coupon4480 yen
10items

2

~

80persons

All-you-can-drink available

□□ ■ All-you-can-drink 【A】 course with! + + 500 yen 【A + S】 course all-you-can-drink! ■ □□
We prepared a luxurious course for the welcome reception party! A little more gorgeous than usual!
Menu
【1 item】 3 types of tapas platter
【2 items】 Carpaccio of duck smoked
【3 items】 Italian salad with colored vegetables and raw ham
【4 Items】 Frit in Chicken Wings ~ Io Resource ~
【5 items】 Seasonal vegetables and pork shabu-shabu
【6 items】 Simmered cow streak demiglace sauce
【7 items】 Margherita
【8 items】 3 kinds of special meat of grams
【9 items】 Today's Chef Recommended Pasta
【10 items】 Seasonal Dolce
● your description of the course ●
※ Weekday 2 people ~ OK Fri Sat, Holiday day 3 people ~
※ Friday, Sunday and public holiday is 2.5 hours, + 300 yen.
※ There is the case that the contents are subject to change by buying situation.
All-you-can-drink menu
· ◆ ◇ ◆ all-you-can-drink A plan ◆ ◇ ◆
·beer
Clear Asahi barrel production / Jean DIGA off / Kashisubia / Muscat Beer / blueberry Beer / La France Beer
Shochu
Tow To (potato) / ceased and the (wheat)
·Cocktail
Cassis soda / cassis orange / black currant grape / Cassis Oolong / cassis tonic / Peach soda / Fuzzy Navel / Peach Grape / Regepanchi / Peach tonic / Raichisoda / lychee orange / lychee grape / Lychee Oolong / lychee tonic
·Cocktail
Jin tonic / Jinbakku / Gin Ricky / vodka tonic / Moscow Mule / screwdriver
·sangria
Vie Nha Arubari sangria (red and white)
- Flavor shochu
Seasonal Kaoru whether or cassis / season Kaoru whether or citron / season Kaoru whether or lychee
·sour
Lemon Sour / lime Sour / Grapefruit Sour / Orange Sour / acerola Sour / Oolong High / green tea High / Jasmine High
·wine
- Almaden (red and white)
·Soft drink
· Pepsi · Cola / Ginger Ale / Tonic Waters · / Lemon Squash / Orange Juice / Grapefruit Juice / Acerola Soda / Calpis or Soda / Oolong Tea / Green Tea / Jasmine Tea
· ◆ ◆ ◇ ◆ All you can drink S plan + 500 yen ◆ ◇ ◆
·beer
· Asahi Super Dry / Jandigerf / Cassisubia / Muscat Beer / Blueberry Beer / La France Beer / Dry Zero Vial
·Highball
· Jack Daniel / Apple Wine High Ball / Black Nikka Rich High Ball / Ginger High Ball / Cola High Ball / Lemon Squash High Ball / Jack Daniel Tennessee Honey
·Sake
- Exciting
·plum wine
· KoAtsushi plum wine
Reservation deadline

Coming to the store until the desired date of the day 23
Available days for reservation

Monday - Sunday - Public holidays - Holidays
2018/08/21 update